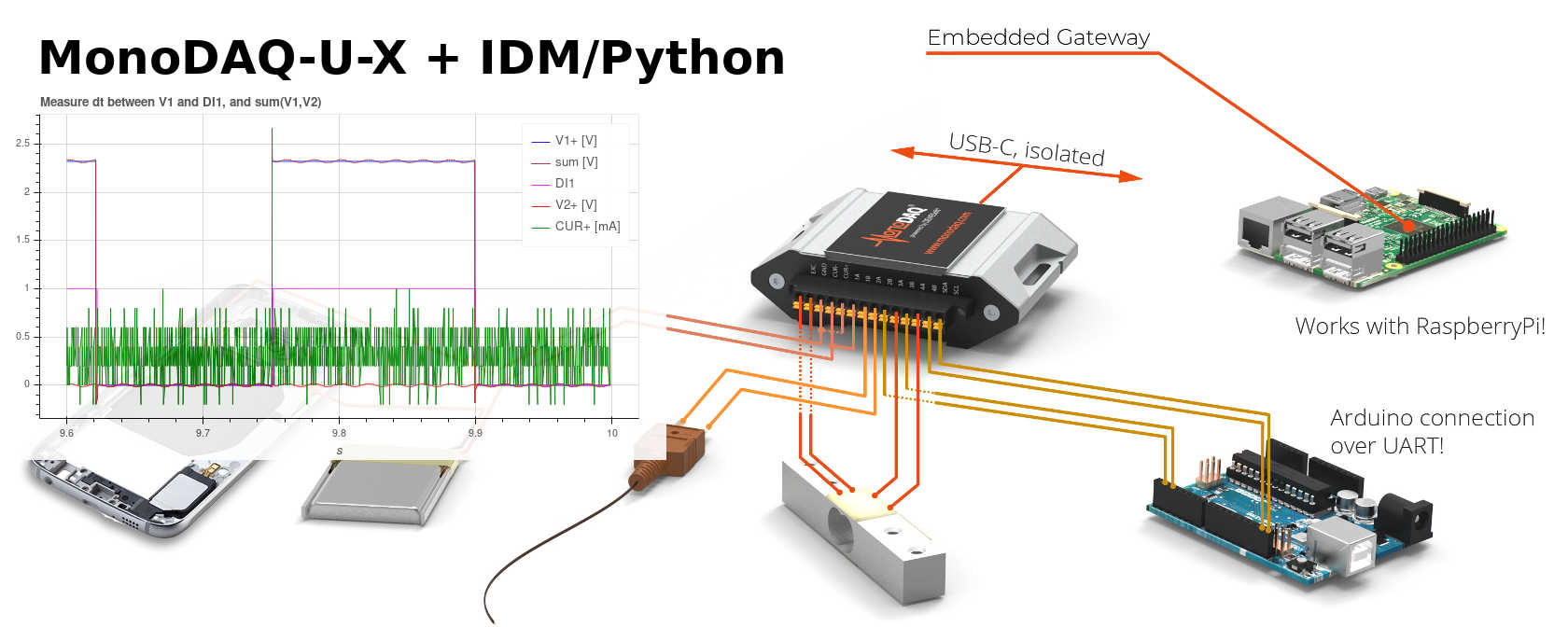 MonoDAQ-U-X¶
Professional USB Laboratory Measurement Equipment at Affordable Price
Take and analyse measurements in a minute with the Award Winning easy to use Dewesoft X3 Software
Extend your applications endlessly with the Isotel Cross-platform IDM Software and Python/Jupyter support
MonoDAQ-U-X is a Universal 16-bit galvanically isolated USB DAQ Device specially designed for IoT development. It features a configurable front-end with 1..24 V @ 1 W supply, 50 kSa/s alias free voltage sampling in ranges from +/-100 mV to +/-10 V, strain-gauge, thermocouples, digital inputs, and one current input up to +/-500 mA. To extend a number of channels, MonoDAQ can easily scale and fully synchronize its operation via USB.
Isotel IDM software suite provides full and official cross-platform support for the MonoDAQ-U-X product besides the Dewesoft X3 Software Suite.
Key Features:
Linux, MAC & Windows Support, and Android App for Remote Control (via UDP)
Single and USB Synchronized Multi-MonoDAQ-UX operation
Multi-channel streaming up to 50 kSa/s with optional python post-processing
Complete python/jupyter support for easy customization, and integration with 3rd party systems
UDP Proxying to another IDM instance, Dewesoft X3 or Android App
UDP Forwarding to another IDM instance
To continue please read the Getting Started with MonoDAQ-U-X. For IDM and python related questions please use our Forum.